Alpha Shape Pro - body
The Alpha Shape Pro is the most advanced body contouring and skin tightening Cosmetic Device currently available on the market in 2019. It utilises a combination of Monopolar Radiofrequency (RF) and Ultrasound, to enable safe delivery of more energy over a short period of time. Ultrasound and RF work together to push heat deep into your skin, overheating the fat cells while cooling the skin surface to keep you comfortable. The fat cells eventually die and are carried away naturally by your lymphatic system, while the heat treatment promotes development of new collagen to create tighter, firmer skin.​ 
Product summary
This is a non-invasive face and body contouring device designed to tighten skin while reducing fat and signs of fine lines and wrinkles.
It uses a combination of monopolar radio frequency (RF) energy, ultrasound to stimulate fat lipolysis (the breakdown of fat cells) and collagen remodelling (for skin tightening), alongside skin cooling, helping to contour the body and face.
 How does it work?
The Alpha  Shape Pro uses a combination of radiofrequency energy (3.4Mhz up to 120 Watts), ultrasound and skin cooling to deliver controlled heating to target deep tissue, addressing deeper wrinkles, sagging skin and jowls, as well as the superficial skin layer, treating finer lines.
The device comes with a handpiece to treat the body and a smaller one for treating the face. This is kept in almost constant motion as it treats.
The tip of the applicator on the end of the handpiece uses focused thermal (heat) energy to disrupt the collagen fibres deep within the skin. The aim of treatment is to raise the temperature at the skin surface to 40-42°C for 4 or 5 minutes in each area treated to achieve the collagen tightening. This will be felt as a warming sensation by the client.
Collagen has a triple helix structure, which begins to unravel when affected by heat. Over time, the healing process encourages the production of new collagen fibres, smoothing the skin and reducing the appearance of deep wrinkles and fine lines. The new collagen fibroblasts help to tighten loose or slightly sagging skin, giving an overall more youthful appearance, and the collagen network is strengthened and stimulated, improving skin texture and laxity.
The image below shows how it works:
The applicator tip has a built-in thermometer so there is no risk of overheating  and also has an option for something called 'layered advanced cooling', allowing the practitioner to precisely control the heat and level at which the energy is delivered. This controls whether the Alpha Shape Pro delivers energy to the superficial skin layer or whether the energy is targeted to the deeper tissue. The real time control of cooling and heating also means that the treatment is comfortable at the surface of the skin for the patient, and although during the treatment the skin may feel slightly warm, there will be no pain or bruising.
Visible results can generally be seen after one treatment, with more prominent results seen 2-3 months following treatment.
What is it used to treat?
The Alpha shape Pro is used to treat everything from superficial, fine lines to deep wrinkles within the deep tissue on the face, neck and body. Skin becomes smoother and lines are reduced, while the body and face are reshaped and recontoured.
Fat deposits in hard-to-reach areas can be reduced, all with long-lasting results provided that you continue to maintain a healthy diet and lifestyle.
It is suitable for those with stubborn, mild to moderate fat deposits, and can postpone or even eliminate the need for more invasive treatments, like liposuction, in the future.
It is not a weight loss solution.
Alpha Shape Pro is used to treat love handles, bingo wings (flabby arms), saddle bags on hips and thighs, post-baby tummies, turkey necks and jowling in the face.
How long does it last?
Alpha Shape Pro results are generally permanent, provided that you maintain your weight following the treatment. Its use to treat cellulite is not-permanent, however, as this can easily reoccur over time.
A European study demonstrated significant circumferential reduction in all 58 trial volunteers after 4-5 treatments. Another study demonstrated longevity of results up to at least 18 months.
The longevity of the results will depend on your genetic predisposition to ageing and your lifestyle; you may need top-up treatments to maintain the results.
Side effects & risks
Side effects are generally minimal.
You may notice some pinkness or redness to the skin immediately following the treatment but this typically subsides within 15-30 minutes. Skin may be slightly tender to the touch for a little time afterwards, but this is not always the case. If you are experiencing any sensitivity it can be treated with over the counter non-steroidal anti-inflammatory pain-killer medication.
Very rare risks reported include numbness, swelling (oedema), blistering, scarring, allergic reactions and nausea.
Am I suitable for an Alpha Shape Pro Treatment?
These treatments are recommended for people between the ages of 25-70 who are concerned with stubborn areas of fat, cellulite or sagging skin, particularly those areas that show signs of ageing and have not responded to exercise. Patients with relatively good skin elasticity or "spring back" respond more readily to the treatment. Younger patients may see more dramatic responses. Patients with poor skin texture many have more modest results or require more frequent treatments. Anyone seeking skin tightening and shaping but hoping to avoid discomfort of surgery may benefit from this technology.
As long as you are generally healthy and don't have any serious health concerns (e.g., liver, kidney or heartdisease, cancer etc.), skin diseases or active infections in the area proposed for treatment, there are few medical reasons why you should not undergo this treatment. If you have a history of cold sores, you may need to take medication before treatment can be done.
If you have a pacemaker or any other implanted metal (e.g., hip joints) or electronic device (e.g., internal defibrillator) then you will not be suitable for the Alpha Shape treatment due to the delivery of radiofrequency energy to the body which could heat up these items. If you are planning a treatment to the facial area then metal dental braces may be a contra-indication for treatment due to the path of the radiofrequency from the treatment site to the grounding pad.
This treatment is not advised for pregnant or breast-feeding women.
If you have had ablative laser skin resurfacing or a deep chemical peel in the area to be treated in the last 3 months then you will be advised to wait before commencing an Alpha Shape Pro treatment. If you have been treated with Accutane® in the last 12 months you will also be advised on a delay before you start your programme.
Treatment regime
At the start of the treatment the practitioner will attach a grounding pad on your back, thigh or shoulder so that the radio frequency energy can go back to the device once it has entered your body. They will then apply a gel to the area to be treated which will help the handpiece to move on your skin.
The time taken for a treatment session will depend upon the size of the area and indication being treated, for example a small area on the face and neck could take around 20 minutes, whilst a large area on the thighs and saddle bags could take up to 60 minutes.
Four to six sessions at a rate of once every two weeks are recommended, although more treatments can be administered if required. Results are usually seen within two to three months but skin will continue to improve for up to six months. Maintenance treatment may be required.
Before and After Photographs
Face Treatments with Alpha Shape pro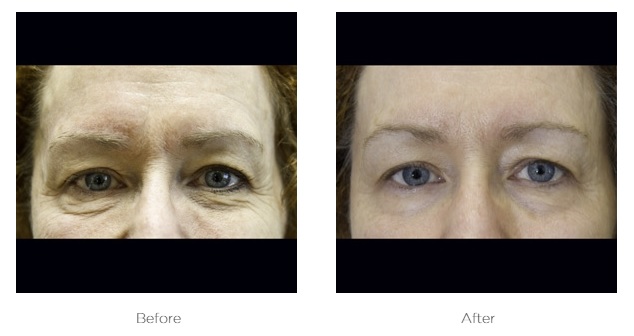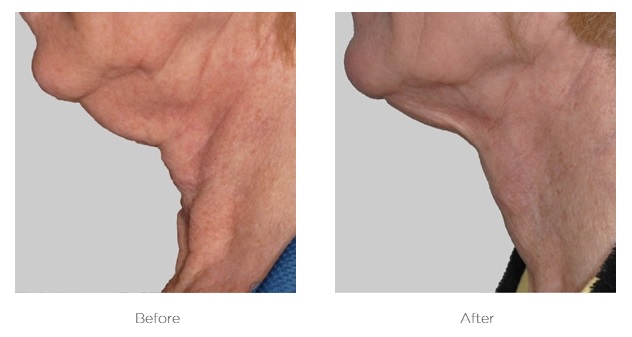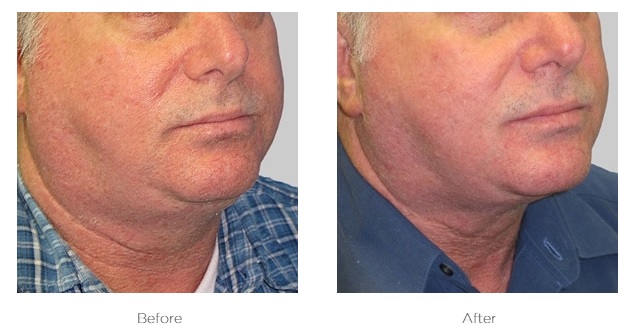 Body Treatments with Exilis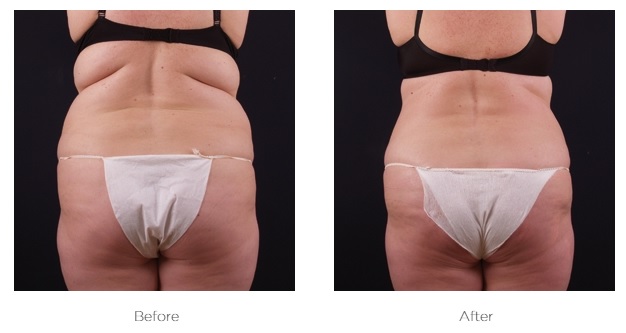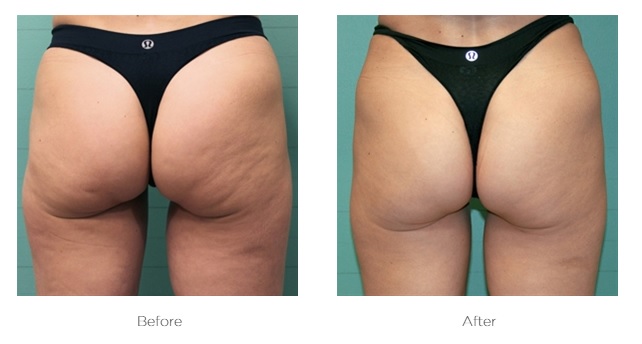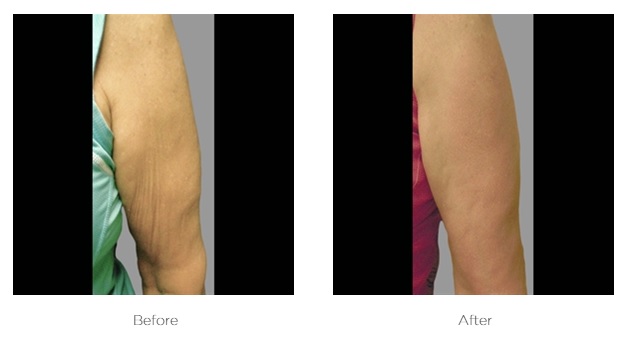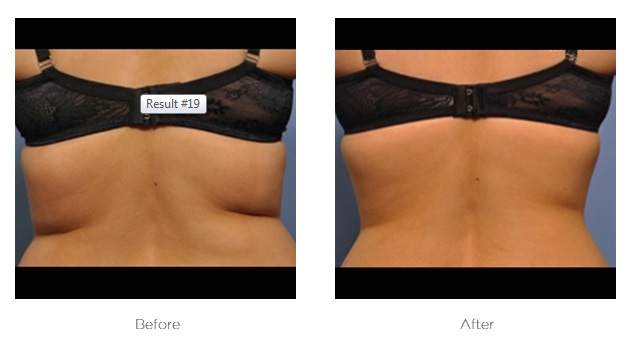 (All before and after photographs are real patients, your results may differ).
Clinical papers
Studies Confirm RF and Ultrasound Advantages for Tightening and Shaping
Robert Weiss, M.D., Associate Professor of Dermatology, John Hopkins University School of Medicine, Hunt Valley MD
David H. McDaniel, M.D., Dermatologist, Virginia Beach MD
Leif Rogers, M.D., F.A.C.S., Plastic Surgeon, Beverly Hills CA
Jeanine B Downie, M.D., Cosmetic Dermatologist, Montclair NJ
The Aesthetic Guide November/December 2014
Client Benefits:
Non-surgical and non-invasive alternative to liposuction
Instant Results that get better over time
No need for anaesthesia
No downtime allowing you to get back to your daily activities
Very little discomfort if any at all.
Local contraction of the collagen fibres resulting in instant tightening of the skin
New collagen is formed beneath the skin that continues to produce for 1-3 months after the treatment
Lymphatic and blood flow is accelerated resulting in elimination of toxins and fresh oxygen supply to the cells to further reduce the signs of ageing 

The combination of Ultrasound and Radiofrequency will leave you 

trimmer and more toned in the area treated.