Aloe Vera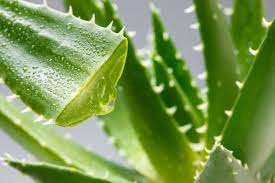 Softening, soothing and restoring.
Aloe Vera forms a protective layer that not only protects the skin but also seals in moisture to keep skin hydrated without leaving it feeling greasy.
It has an immediate cooling effect: soothing and nourishing the skin and reducing skin inflammation. It is renowned for possessing restorative properties and stimulating the growth of new cells which aids in the healing process. It is ideal for treating acne, stretch marks, wounds, burns, minor skin complaints or cuts caused by shaving.
Aloe Vera is rich in a plethora of antioxidants including Vitamin C and E which gives it nourishing, healing, protective and anti-ageing qualities. They help protect cells from environmental damage and pollutants and combat free-radical damage which contributes to the signs of ageing while soothing, hydrating and healing skin.
Aloe Vera soothes not only dehydrated skin but also dry hair, it moisturises dry scalps to help treat dandruff. It's rich in amino acids to help maintain healthy, strong hair and locks in moisturise to minimise frizz and leave smooth, shiny hair. It can aid hair growth by removing dead skin cells from your scalp and keeping your hair hydrated.